Mehr als 90 Prozent aller Frauen haben Cellulite. Bei manchen tritt sie erst im Alter auf, bei einigen schon in der Pubertät, aber kaum eine Frau ist vor Orangenhaut sicher. Die nervigen Dellen, die auch schlanke und zierliche Frauen plagen, stellen die meisten vor ein unlösbares Problem: Es gibt nämlich kein Heilmittel. Der Schlüssel zum Erfolg lautet also Prävention – und das betrifft auch unsere Kleidung.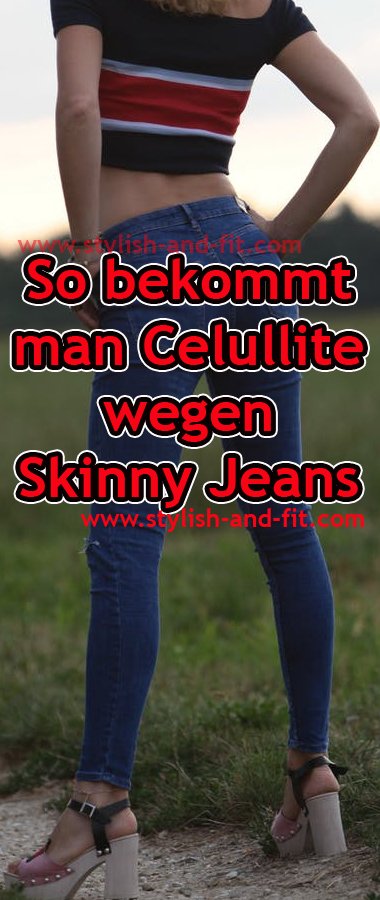 Experten bestätigen: Mode kann Cellulite fördern



Ja, es stimmt tatsächlich. Was wie eine wilde Verschwörungstheorie gegen die Fashion-Branche klingt, wurde jetzt leider von Experten bestätigt. Laut dem Journal of Neurology, Neurosurgery and Psychiatry kann Kleidung Cellulite verursachen oder zumindest verstärken. Und das betrifft vor allem Skinny Jeans und High Heels.
Cellulite wegen Skinny Jeans
Sowohl das Tragen von Skinny Jeans, als auch High Heels bewirken Durchblutungsstörungen. Diese führen dann wiederum zu unschönen Dellen auf der Hautoberfläche. Die engen Jeans verlangsamen durch den Druck auf die Haut die Mikrozirkulation, also die Durchblutung der Kapillaren. Diese wird nämlich durch Druckunterschiede angetrieben.
Wenn also ein unnatürlicher Faktor – in dem Fall die Skinny Jeans – einen äußeren Druck auf unsere Gefäße ausübt, wird die natürliche Durchblutung gestört.



Dadurch erweitern sich die Blutgefäße des Zellgewebes, Flüssigkeit dringt in den vorhandenen Raum zwischen den Zellen und es bilden sich Ödeme, also Wassereinlagerungen, die Dellen, Dehnungsstreifen und schlaffe Haut verursachen. Hohe Absätze behindern den Rückfluss der Venen, es sammelt sich Flüssigkeit an, wodurch ebenfalls Ödeme – und damit Cellulite – entstehen.
Nicht nur ein ästhetisches Problem
Das Tragen der engen Skinny Jeans hat auch gesundheitliche Folgen: Wegen der Kompression durch die Jeans geraten auch die Muskeln und Nerven unserer Beine in Mitleidenschaft. Krampfadern sind ein Zeichen dafür. Und auch andere enge Kleidungsstücke können negative Folgen haben. Besonders, wenn wir acht Stunden am Tag am Schreibtisch sitzen.
So können Gürtel und Oberteile auch Verdauungsprobleme verursachen, wenn sie zu eng sind. Viele gute Gründe, die Kleidung eine Nummer größer zu kaufen, am Morgen zur weiteren Mom Jeans zu greifen und in bequeme Sneaker zu schlüpfen.